2nd Annual FriendRaiser Gala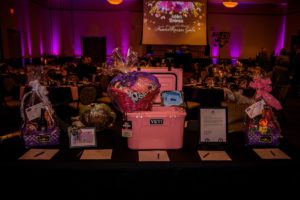 Event was held on October 21, 2017 with hundreds in attendance who through private donations, raffle tickets and bids on silent auction items, helped raise $19,000!
Golf Outing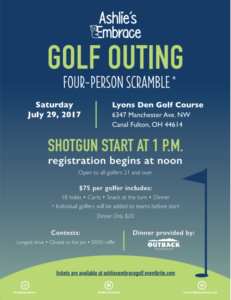 Saturday, July 29th, 2017 at Lyons Den Golf Course.  Four-person scramble with a shotgun start. Activities included a 50/50 raffle and prizes for longest drive and closest to the pin.
All golf tickets included dinner catered by Outback Steakhouse on The Strip.
Celebrity Server Fundraiser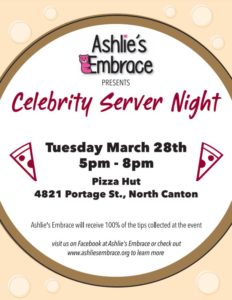 Come see us for dinner on Tuesday, March 28 for a Celebrity Server Fundraiser at Pizza Hut on Portage in North Canton. Ashlie's Embrace will receive 100% of the tips collected. Can't dine in? There will be a tip jar at the drive-thru!
1st Annual FriendRaiser Gala
The 1st Annual FriendRaiser Gala, held on October 15, 2016 was a huge success raising nearly $15,000. Pictures coming soon.
Follow us on social media (@AshliesEmbrace) for information about upcoming events!