Celebrity Server Fundraiser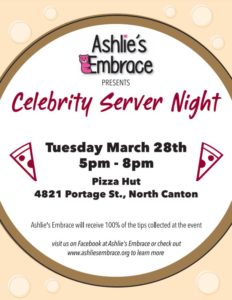 Come see us for dinner on Tuesday, March 28 for a Celebrity Server Fundraiser at Pizza Hut on Portage in North Canton. Ashlie's Embrace will receive 100% of the tips collected. Can't dine in? There will be a tip jar at the drive-thru!
1st Annual FriendRaiser Gala
The 1st Annual FriendRaiser Gala, held on October 15, 2016 was a huge success raising nearly $15,000. Pictures coming soon.
Follow us on social media (@AshliesEmbrace) for information about upcoming events!